Mortgage Payment Calculator
Worried about your mortgage payments? Find out how much and how often your mortgage payments will be by discovering your options. Click here to start the calculator.
Mortgage Affordability Calculator
Use this tool to help you decide on the mortgage you can afford. Click here to start the calculator.
Household Budget Calculator
Need help deciding how to budget? Use this calulator to help you compare your income with your planned and current expenses. Click here to start the calculator.
Current Mortgage Rates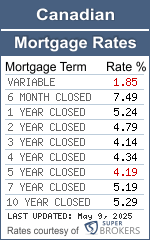 All calculators are owned and maintained by Canada Mortgage and Housing Corporation
Contact Us Today
Office
416.742.2800
905.405.8484
George Vadakethu
647.280.1921 | george@visionandpassion.ca
Thomas Pothen
416.356.7084 | thomas@visionandpassion.ca
Jonathan Vadakethu
416.409.3516 | jon@visionandpassion.ca
Market Info & Tips!
Worried about your mortgage?
Are you feeling weighed down by the years remaining on your mortgage? Worried about when you should lock in your variable rate, or unsure of refinancing with rates on the rise? Getting a good interest rate is crucial, but there's a lot more you can do to ensure that you are mortgage free sooner. Flexibility and options are key - and the advice of an unbiased mortgage professional can help you make the most of these alternatives.